Neshiima are…
Liam Hesslewood
– Vocals
Craig Rankin
– Bass/Vocals
Ross Cloughley
– Guitar
Danny Cameron
– Drums/Percussion
---
In the Beginning…
Neshiima began life as a recording project in 2013. Vocalist, Liam Hesslewood, began writing with bassist Craig Rankin and guitarist Calum Stansfield. Slowly the band started coming together. By adding Danny Cameron to drums the 4 piece line up was complete.
There was an outpouring of creativity which led to them having an albums worth of material, featuring a varied selection of melody driven metal songs and softer ballads. Now the members were in place, a massive overhaul of the demo's recorded and musical style began. This led to a heavier, groovier overall sound with huge choruses, dark ambient passages and a vocal style which can soothe you or spit in your face.
Jump forward to April 2014 massive steps forward were being taken. The band released their debut EP 'Distance', featuring the singles 'Rebuild' and 'Madness'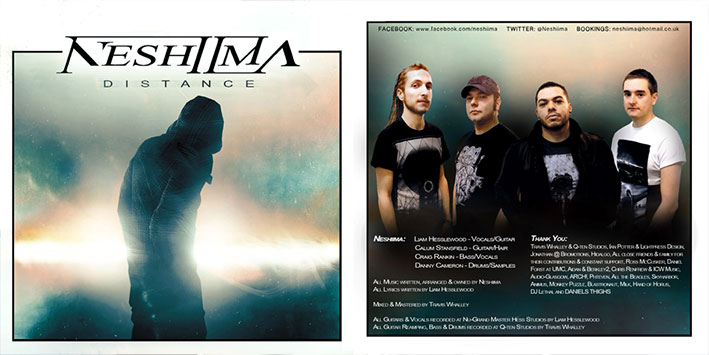 Beware of Gifts (2015) –
The second Neshiima release 'Beware of Gifts' was released in August 2015 after a successful crowd funding project. This release was a concept EP based on a story from Japanese mythology. A music video for 'Become The Ocean' was released after being filmed in the Insane Championship Wrestling ring in Glasgow.
The EP was also accompanied by a comic book to visually tell this story, written by Liam and Calum. The EP received rave reviews from various online media outlets and was also featured in Rock Sound. Our track 'The Cycle' also featured on Metal Hammer's free CD in the September 2015 issue.  The release was promoted by a co-headline UK tour with Amongst Thieves and an appearance at UK Tech-Fest in Newark, England.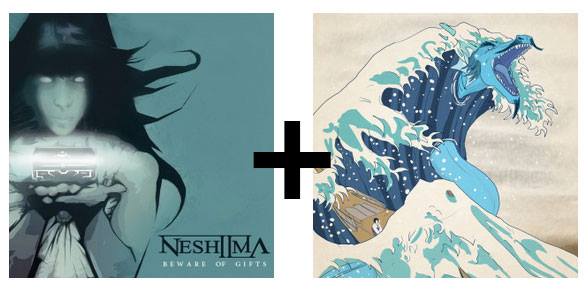 Post Beware of Gifts…
A line up change towards the end of 2015, saw the departure of Calum and the introduction of Ross Cloughley who brought a new dynamic to the band. (Check out his YouTube page by clicking on his name)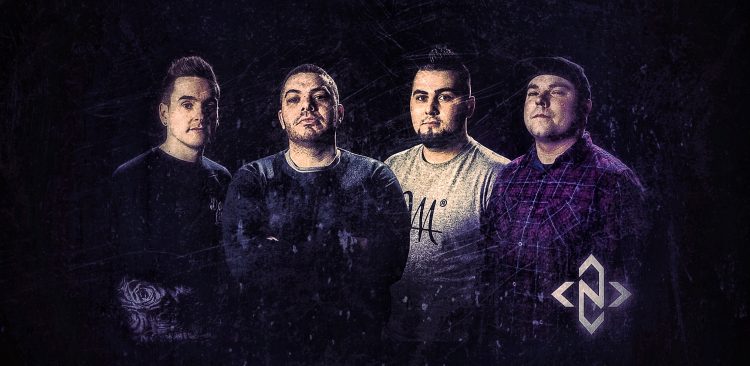 Neshiima led a relatively quiet 2016 – after a brief run of UK dates with Cambion – they spent the rest of the year in the studio writing new material.
They blasted into 2017 with a brand new single called Livid – accompanied by lyric video, click the link! – this launched them back into the live scene. The band put on their own Headline show at the famous King Tuts Wah-Wah Hut debuting their new music to a near capacity crowd and have since Headlined Metal Mayhem Festival in Fife.
In 2018, Neshiima are set to launch their new EP –  'Purple' which will be released on 23rd March 2018. Stay tuned on our social media for new singles, teasers and tour dates!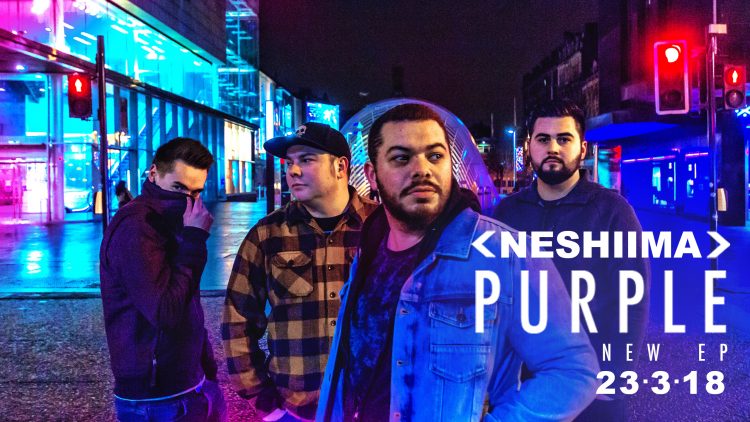 Previous Reviews–
http://themusicaloutcast.com/2014/06/ep-review-neshiima-distance/
http://turnitupmedia.blogspot.co.uk/2014/08/neshiima-distance-review.html
Interview with New Hellfire Club Glasgow –
http://www.newhellfireclub.co.uk/2014/06/neshiima-spotlight-interview.html
Live Review from May 2014 –
http://www.newhellfireclub.co.uk/2014/05/milk-ep-launch-core-with-monkey-puzzle.html