Liam Hesslewood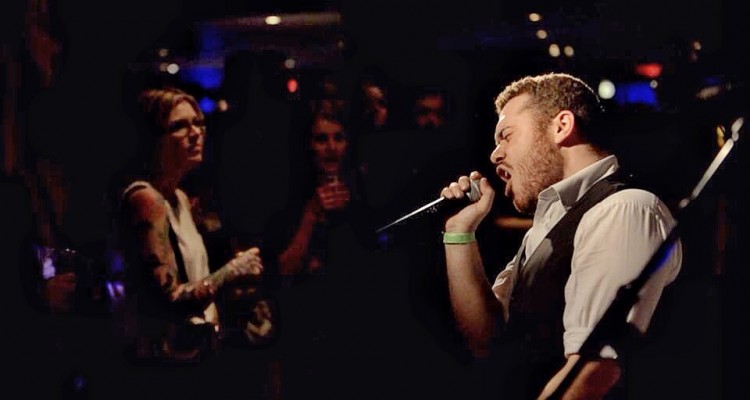 Vocals/Song Writer/General Faffery
In the most simple terms, Liam IS Neshiima. Liam brought the band into existence by finding all the members, he wrote most of the early songs, he fully utilizes a diverse vocal ability, and named the band.
Despite stepping forwards to concentrate solely on vocals, Liam is still one of the chief song writers, and before every song becomes a Neshiima song, it goes through his home recording setup.
At gigs you will usually find him making friends with everyone who's in attendance or even on a wander, just exploring, and most likely, hungry. Although he is the Faffosaurus Rex, without Liam, there would be no Neshiima.
–
Gear
rundown
Shure SM58 (UT2) wireless
Shure UHF diversity receiver
Favourites n stuff
Paul Simon – Graceland
Bruce Springsteen – Born In The USA
Bon Iver – For Emma forever ago
Delilah – From The Roots Up
Fink – Distance & Time
Powerman 5000 – Tonight The Stars Revolt
Jimmy Eat World – Bleed American
The Kennedy Soundtrack – Tale Of Two Cities
Taking Back Sunday – Louder Now
Intervals – A Voice Within
Michael Jackson – Bad
Sia – Forms Of Fear
Spineshank – The Height Of Callousness
– Ultimate favourite band
Genesis
– local band 
MILK
– How you developed your style of play/main influences on playing. 
I used to love the raspy quality of singers who could really tell a story – like Chris Rea or Bruce Springsteen, and I'd try to emulate that kind of quality. At the same time though, I often loved listening to Errol Brown and Hot Chocolate. Huey Lewis and The News, Lionel Richie, Michael Jackson and more recently,artists like Patrick Stump of Fall Out Boy. His efforts, especially on the the 'Infinity On High' album really ring as where I felt I needed to head with the feeling in my clean vocal style. 
The harsher end of my vocal spectrum has definitely been heavily influenced by vocalists such as Jonny Santoz (spineshank) and Corey Taylor (Slipknot), but more recently I have been given assistance in my overall style by Jamie Graham of Heart Of A Coward, which I'm very grateful for.
– Nesh gig 
As much as it was a little cringeworthy for me, 2013 with Skyharbor. Mainly because it taught me a lot within the space of our set. Also to again, discuss vocal techniques with a vocalist far more experienced than me.
For me, this gig was a turning point in how my recorded voice needed to presented on a live stage format.
– Gig attended 
Pantera – Reinventing the Steel tour, Wolverhampton Wolf run 1999.


– Best thing about being on stage
The ridiculous unplanned banter and how every show is different. Making new friends too.
– Biggest worry on stage
My diaphragm failing and screaming like Axl rose sings. That or falling over.
General Favourites
– Drink/food
Pizza. Italian food in general.. Or Indian… Or just food to be honest.
I have so much love for Twinings Breakfast Tea it's ridiculous.

Writing songs. Watching a good movie.
Playing old platform games. Ice skating, or even just having a good chat.
– Guilty pleasure
 Well, from the rest of this bio, it's quite obvious that I'm not really an obvious metal head, and so, Aqua!
– Something you dislike + reason why 
Arrogance. It's unnecessary for human existence and holds no moral value.
– Most wanna meet
All the family I have that I've never met.
– Most wanna punch 
Kanye West. Because, Kanye West.
– Favourite band quote 
When it all falls to pieces "we are becoming dinner ladies at the faffeteria"
Or Craig, pointing at a jar. He said "you know what they say about THIS honey…"
"…comes from beeeeeees"