Aug/Sep/Tour Blog
Well, we have had a busy end to the summer!
As you will probably know, our second EP 'Beware of Gifts' was finally released on 28th August and our official release show in Glasgow followed one week later. Straight after that, tour preparations were finalised then we hit the road for 1 week with Amongst Thieves up and down the UK. Finally it is time to relax for a bit, it has been a crazy busy year so far!
The release of 'Beware of Gifts' at the end of August was a long time coming. We had been working on some of these songs for well over a year and the recording and production process began in early 2015. After some delays and a hefty amount of hard work from all involved, the record finally dropped! Along with a music video for 'Become the Ocean' which was filmed in the ICW ring at The Asylum in Glasgow – that was fun. Hard work, but fun!
The EP received some awesome reviews from various media outlets in print and web and even appeared in the review section of Rock Sound on the same page as Motorhead and Iron Maiden (that's kinda cool…). Our track 'The Cycle' also featured on the September issue free CD in Metal Hammer alongside the likes of Parkway Drive and TesseracT. If you haven't checked it out yet, the EP is available to purchase as a digipak CD via our shop, digitally via all the usual outlets (itunes, Amazon, Google etc) and free to stream on Spotify and maybe even Soundcloud, I can't remember. Anyway, check it out. You may dig it!!
The EP release show in Glasgow followed one week after release on Saturday 5th September at Stereo in Glasgow. We were lucky enough to have an incredible set of bands supporting us on this special evening – The Sun Explodes, Sithu Aye and Milk. All of the bands played fantastic sets and really warmed up the crowd. Stereo is one of Glasgows best venues in our opinion – it has a really spacious stage, a top quality sound engineer and sells some good beers (priorities!).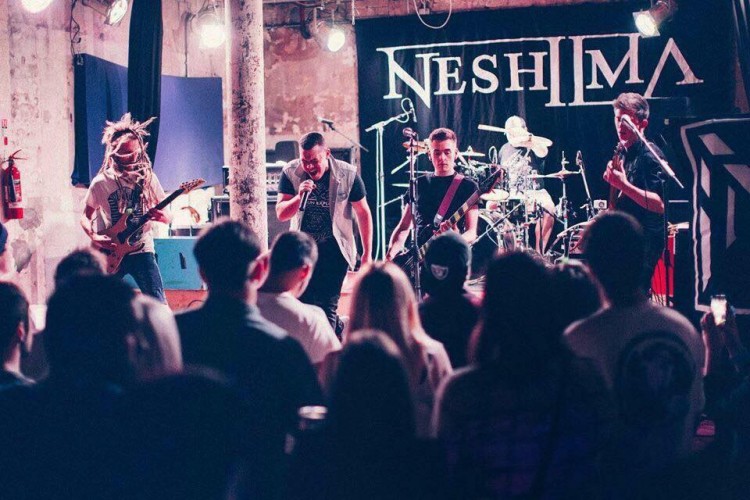 Milk opened the show with an energetic punch of their unique style of funky metal. We've shared the stage with these boys many times and will never get sick of it! Do check them out if you haven't already. The Sun Explodes literally arrived about 10 mins before they were due on and done a great job to frantically get set up quickly and on stage to play a smasher of a show. Dave never got his bum out though, some were disappointed! Sithu Aye played his first ever Glasgow performance on the back of his first ever live show at UK Tech-Fest in Newark in July. If you were at UKTF, you will know how extremely talented this guy and his live band are – definitely one to watch out for! They did not disappoint in Glasgow and we hope we can play with them again.
Our show itself went off without a hitch to a very busy room. We played a host of new songs and even treated everyone to a Rick-roll of our own oldie 'Rebuild'. That seemed to go down well! As did the multi-coloured finger lights given out to each audience member to give the show some extra ambience. Once again, huge thanks to everyone who made this show a success. It was probably our most fun show to date!
In true Danny bad-timing fashion, I was then on holiday for the most part of the gap between the release show and our UK tour beginning. So the little time we had together between each were spent finalising pre-production for the tour.
The tour began on 28th September at The Stag& Hounds in Bristol. Upon arrival to this venue, it just looked like your average small English pub with a slightly raised section in the corner barely big enough to fit a drum kit and some amps. Initially, this didn't look like our ideal venue but we were wrong! Soundcheck went well and we opened the show due to a local support pulling out. The tour line up of Nesh and Amongst Thieves was completed that evening by local favourites Apherium who headlined the show. These guys play some real good tunes and are super tight live. They also opened the show for us in Birmingham the next night. For Glasgow folks, if you are fans of Halo Tora, check these dudes out! The Bristol show was really fun. The small nature of the venue quickly disappeared as the place filled up once the doors opened. I spent most of the time (as usual) being the only one on the stage as the others flew around the room trying to invade every space possible and mount any piece of available furniture! Overall, it was an awesome way to kick off the tour and also great to meet our tour buddies Amongst Thieves.
That evening, we drove through to Stratford to spend the night with our buddy Andi Chamberlain (Super cool Author and ex-frontman of Eagles Born Vultures – RIP *sad face*). This halved our journey towards Birmingham for the next show which helped out the next day. Andi welcomed us with tea, airbeds and top banana fanta! We love you Andi <3 (Editors note – For those who like to read, PLEASE check out Andi's first novel – "One Man and His Dogma" – available from the Amazon Kindle store or a real copy from Andi himself. Ridiculously good.)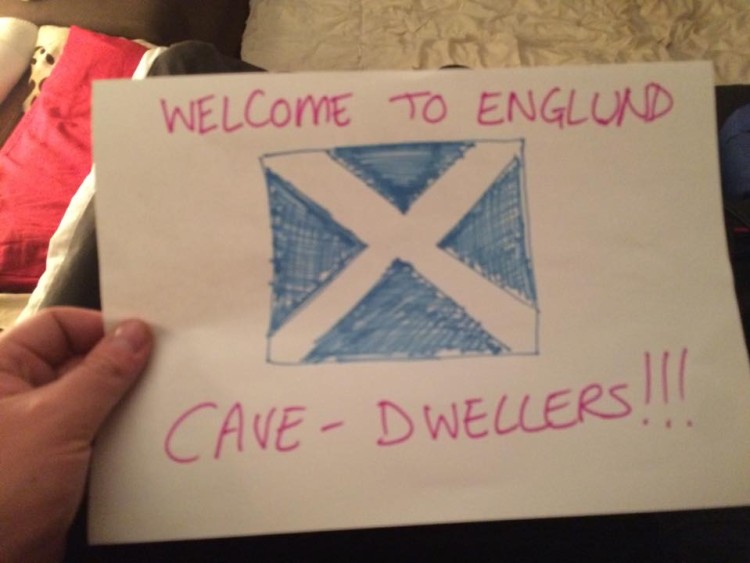 Birmingham was a great show also. This time we were at The Flapper which was really picturesque venue on the canal. We "headlined" this show, which for bands our size basically just means we played last and hoped people were still there at the end! Which they were, thank you! Liam is familiar with Birmingham having lived in Stratford for many years and he was chuffed to see so many pals and old faces come along to check out the Nesh! Apherium, who played the night before, opened this show and again sounded incredible. We kipped for the night at our mate Dave's – who really spoiled us. Thank you Dave for the beer, food, banter and extremely comfortable surroundings! Oh and for letting Andrew use the ukulele to blast out some Mastodon and Lamb of God at 3am! And for those of you who know our driver, Stephen Dewar, this apartment had a lift and yes he did attempt to start a 5 man circle pit within the moving lift – causing it to break down between floors… Please do not do that again Steve!
On to Newcastle next to play Head of Steam. This venue had recently been renovated and was great to play. Another cosy, small venue which easily filled up once 20-30 people came in the door. This show was my personal favourite of the tour. Firstly because we got to spend some time in Brew Dog before the show, sampling some craft beers but we also played great and the crowd responded really well.
Unfortunately, bunnet-heid Andrew left some gear in Birmingham meaning at this show we had to drop a couple of songs which used certain affects – but on a positive note this meant we got to play some songs that we weren't planning on playing, which is always a fun challenge! We spent the aftermath of the evening trying to find a decent bar that wasn't absolutely swamped with freshers (impossible) but eventually managed to sink a few beers and cocktails before residing back to our pal Duffy's for some pizza and Limp Bizkit!
Glasgow was next! Which we were already looking forward to getting home for the night to, for some of us, our own beds/showers etc. The journey from Newcastle was a long one due to an accident on the Hexham road but we got there eventually. We also treated the Amongst Thieves guy to possibly the most typically Nesh entrance to the venue load in area. I would try and describe it but nope, you had to be there!
Glasgow was a funny one for us this time. We always have such fun playing at home but this time we struggled to shift as many tickets as usual. Purely down to the fact that the BoG release show was less than a month prior – either that or people think we suck. However, the show was fun even though the stand-in venue sound engineer seemed to struggle to get our sound right or get anything to come out of our sample iPod, meaning our hour long set reduced to 45 mins (We were going to live debut 'So Easy' but that can wait for next time). It was good to see many a familiar face, briefly catch up with some friends and go for a Via Italia Piada for dinner! (A favourite of mine and Andrews…)
York – what can we say about York apart form it being awesome and an incredible laugh! Although, it got off to a bad start due to Andrew sleeping in and missing our scheduled time to hit the road! He enjoys his own bed… Nonetheless, we got to York in good time to meet our hosts for the evening, Laura and Emma who were kind enough to show us around York after a pub lunch. I had never been to York before and was really impressed. Such a nice town/city (whatever it is).
The venue was great. The Duchess is possibly the biggest venue we have ever played. It had a really sweet backstage area with wifi (yass), huge couches, a fridge, a shower – everything you want need when relaxing before a show! As well as a snazzy curtain to get onto the stage from backstage. The stage itself was enormous and Stephen put on a crazy good light show for us. This show was perfect for us to use our left over giant balloons which were meant to be used in Glasgow but weren't . Amongst Thieves played a blinder this night and their fans seemed to dig us too! This was the first appearance of 'Shagabell', the sex doll merch girl that AT brought on tour with them. She crowdsurfs like a pro! We had a few brews after the show before being old men and heading back to our digs and going to bed.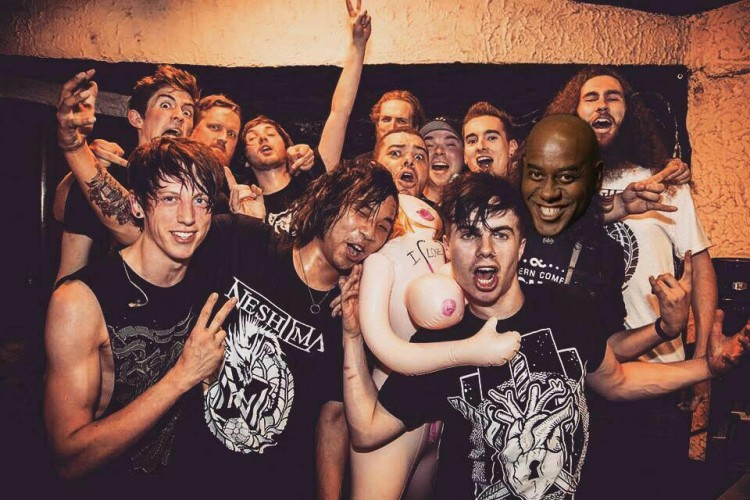 The final date of the tour was Manchester at Factory251. This was a nightclub/gig venue which was also pretty sweet. Again for this show we were on last which meant we got set up and soundchecked nice and early. We spent our few free ours out in Didsbury at a lovely pub that serves Thai food (and also a relative of Stephen running the kitchen, how handy!). Superb food, good banter and generally just awesome to chill out for a few hours with zero band duties required. We were all done in by this point of the tour. Chelsea getting pumped by Southampton put a bit of a dampener on the evening for me though… boo!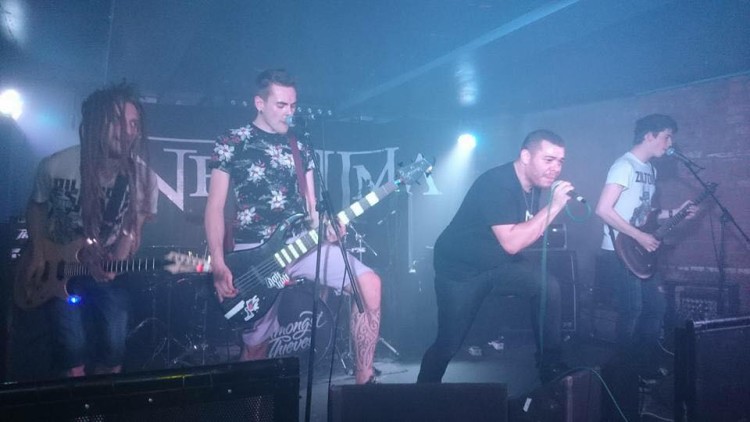 The show itself was quite a quiet one. Neither of us touring bands had much of a following in Manchester and the two local supports didn't seem to shift many tickets either. Nonetheless, Amongst Thieves played their usual blistering 30 mins set of singalongs! Our show was fun as we put every single last bit of energy into it, knowing it was the last night of tour. Amongst Thieves brought the party for the last song, 'Madness', where 'Shagabell' made her final appearance along with what seemed to be every glow stick in Manchester! This was awesome to watch from the drums – my boys, the AT lads and the few crowd members jumping around and singing along in a weird neon blur to our song. Massive thanks to the Amongst Thieves lads for making the final moments of tour that little bit extra special, and mental! Most of this show was captured on a Go Pro so keep your eyes peeled for some footage popping up in the future 😉
We shared a few beers after the show before saying our goodbyes. At this point, I guess it's a good time to thank Mark Anson from European Tour Collective for organising the tour and ensuring each show ran smoothly. The venues, the local supports, our tour buddies and the general professionalism of the whole tour was top notch. Oh and thank you to Dan who filled in for Mark for a while in Newcastle!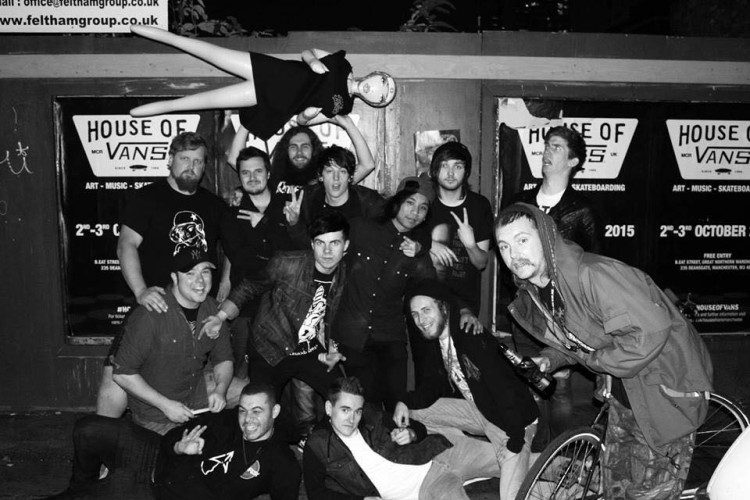 I've rambled on for long enough now. To sum it up, this has been an awesome summer for us. Starting off with playing UK Tech-Fest, the release of the new record and corresponding release show, topped off by an amazing UK tour! The rest of the year will be quiet for us with sporadic gigs around the country while we rest and write some new music for your ears!
If you've managed to stay interested and read all of this, well done! Give yourself a pat on the back and make an elephant noise.
Danny x